Fright Village Haunted Attraction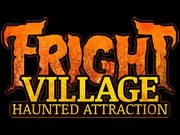 1520 W Henrietta Rd
Avon, NY
Details
Average Review

Scare Factor

-

Appropriate For

-

Organization Type

-

Listing Categories
Don't be afraid, take a tour!
Attractions:
Phryte Manor:
Looming over what was once the town of Phryteville is the ancestral home to the Phryte family, Phryte Manor. For over 200 years this exquisite example of Victorian Italianate Architecture has been expanded and added to as rooms were needed for new family members. Over time the house became a labyrinth of odd shaped hallways, stairways that go nowhere, and doors that open to brick walls. Whole sections of the building remain only half completed from the time of the town plague that also devastated the Phryte family. Now operated as a bed and breakfast by the Phryte family, historical tours of the massive home are available upon request. So that you don't get lost in this maze-like house, stay close to your tour guides, members of the Phryte family who still reside in the structure. Please don't be alarmed by their personality quirks, or stare at the contorted faces of these unfortunate Phrytes many of whom show signs of the debilitating family disease. They are just people just like you… if your last name was Phryte.
Phryte Doll Company Factory Tour
Porcelain Phryte Dolls were known across America and around the world for their realism, quality, and life like size. Making the doll as lifelike as possible was the passion of the Phryte family. Each doll was made to order, and costumers could even purchase custom dolls that looked just like their own child, right down to the eye color, hair color and clothing. Many of the company's customers where parents who had lost a child to plague, childhood diseases, or other tragedies and ordered these "twin" dolls with their deceased child's own hair incorporated into the doll making process. Never was this more true than when the sole heir of the Phryte family name lost his young daughter Grievance Phryte, to the illness that devastated Phryteville. Town gossip circulated that Augustus Phryte had turned the corpse of his beloved daughter into a life sized, realistic Phryte Doll. To this day, Augustus Phryte, treats each doll as if it was alive. Many local people believe that they are.
Sunnydale Hospital Phryte Wing
Most bloodlines as old as the Phryte's have genetic oddities, and even inherited diseases that "curse" the family tree. In the case of the Phryte family their disease was so horrifying that it was hidden away from the town and even from family members. Often misdiagnosed as adult on-set Polio, Bare Distortion Syndrome is debilitating painful illness that plagued the Phryte family throughout its history. This gruesome family curse causes the human body to distort, and twist in a painful debilitating horror. Death was slow and the pain excruciating. Most of the family who contracted the disease either went mad or were driven to suicide by the pain long before the disease itself killed them. Over the decades, the Phryte family had donated millions of dollars to the local Sunnydale Hospital in hopes of finding a cure. Christened the Grievance Phryte Phryte Wing, most of the Sunnydale Hospital was devoted to finding a cure to this genetic disorder. Then suddenly a wide spread disease hit Phryteville 1982 and filled the hospital past capacity. Almost overnight every room overflowed with the sick and dying. The symptoms of this plague were curiously similar to Bare Distortion Syndrome, but was transferred by casual contact rather than heredity. Hundreds of townsfolk quickly caught the Phryte family disease and even a quarantine of those infected was not enough to stop it from spreading. Eventually, a vaccine was developed to stop the spread of the disease. However, there is no cure for the plague that struck Phryteville; there is only treatment that prolongs an eventual agonizing death. If you contracted the disease you died, painfully, and hundreds, maybe even thousands died. Many of them in the Phryte Wing, which is now considered the most haunted structure in New York State. A favorite of paranormal investigation teams and this October you can join in on a "Ghost Hunt" of the Phryte Wing of the Sunnydale Hospital. If you dare!
Email Haunt Owner
All photos and videos within this listing are the property of Fright Village Haunted Attraction
Recent Reviews
There are no reviews for this listing yet
All information on this page was submitted to Buffalo Haunted Houses and was believed to be accurate at the time it was posted. Please report any inaccuracies
here
.